North Ryoba group handling product
[marine products]
King crab, hairy crab, queen crab, Hanasaki queen crab, raw sea urchin, Pandalus nipponensis, sweet shrimp, live abalone, live scallop, scallops, squid, truth dako foot, Aramaki salmon, time salmon, sockeye, salmon child, soaked in secret mountain, salmon roe soy marinated, salting lightly salmon roe, cod child, Mentaiko, salted salmon roe, salted herring roe, seasoning herring roe, tobi child, seasoning sea tangle with herring roe, Rishiri product kelp, Rausu product kelp, Hidaka product kelp, a lot of kelp artefacts, a lot of salmon artefacts, Okhotsk product kinki, herring, a lot of dried fish including Hidaka product Spirinchus, Ika-shiokara, a lot of artefacts including soaked in Matsumae
[farm products]
Yubari melon, Hokkaido melon, green asparagus, white asparagus, Hokkaido potato, Hokkaido corn
[Hokkaido famous confection, dairy product, livestock products, drink, folk crafts, others]
Shiroikoibito, Royce, raw chocolate, Hokkaido butter, Hokkaido cheese, Jingisukan, Sapporo ramen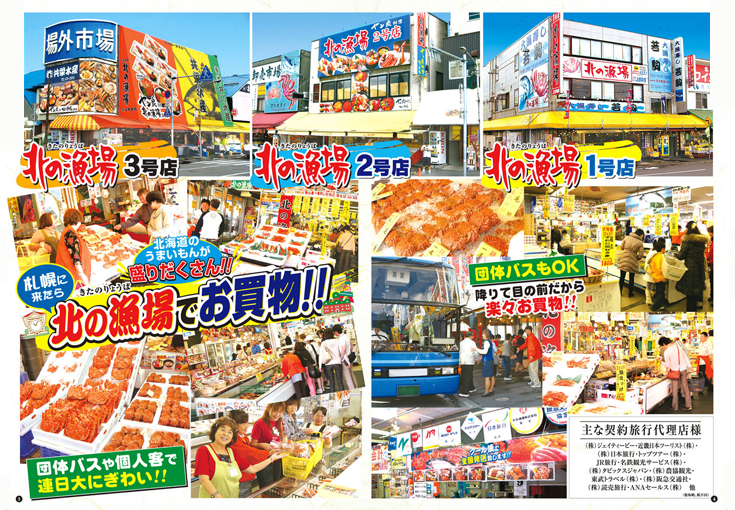 In the northernmost fishing grounds group, we manage 3 stores in Sapporo Central wholesale market, 2 stores in Otaru, and selling fresh seafood and eating meals.
For those coming by car and groups, you can use the large free parking lot of the off-site market association.
You can buy fresh marine products, including crabs, and eat it.
We sincerely look forward to your visit.

We are greeting customers at the Sapporo Central wholesale market with fresh seafood just dropped off in the morning.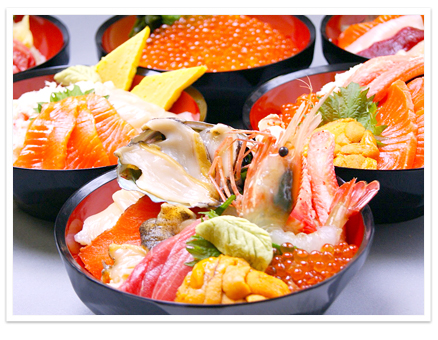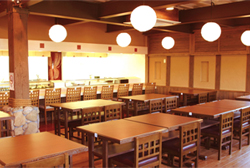 As there are small rise, table, counter seat,
The use in group is OK, too!
Please use by all means!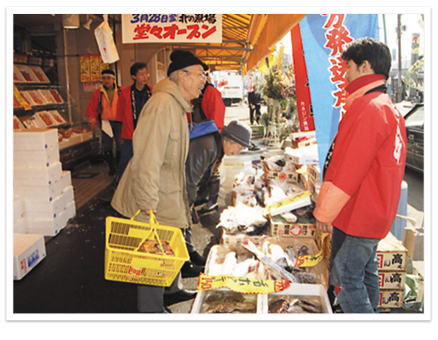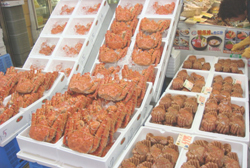 It is direct from each Sapporo city hotel to north Ryoba!
Under free pick-up bus service!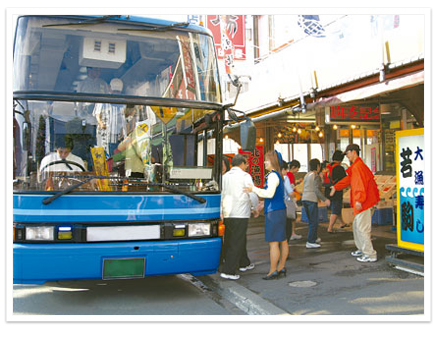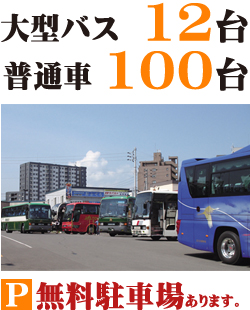 When we want to eat, we send out north Ryoba everywhere in the whole country!
In the Sapporo Central Wholesale Market where seasonal ingredients gather to all members from each place in Hokkaido
Article of shop which is at position connected directly with, and, thank you, does well very much day after day
You can purchase at the Internet.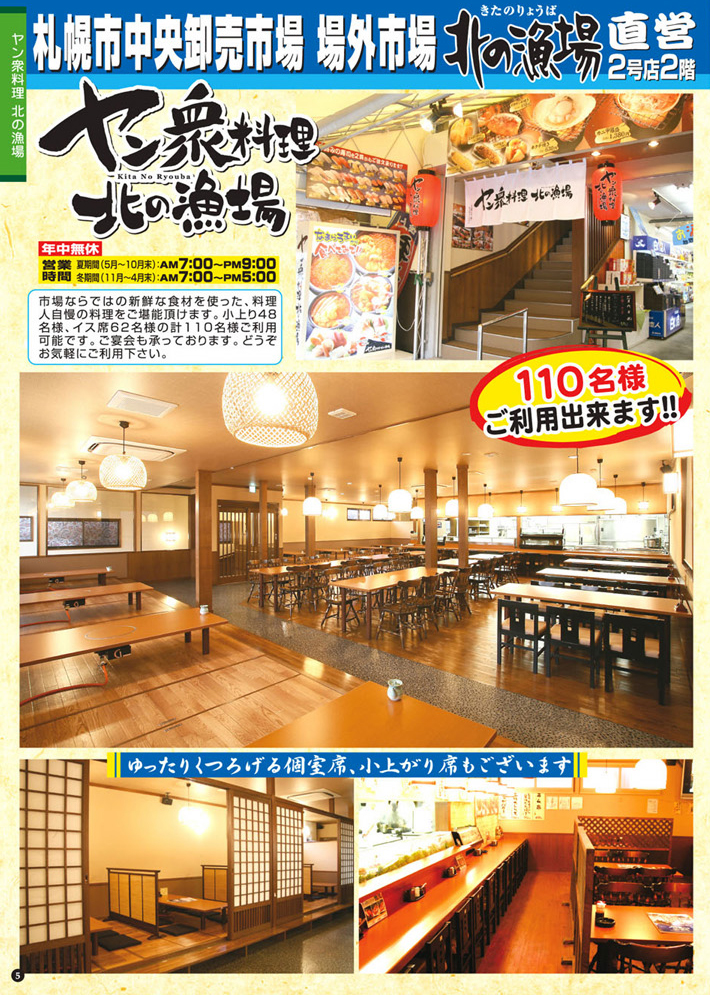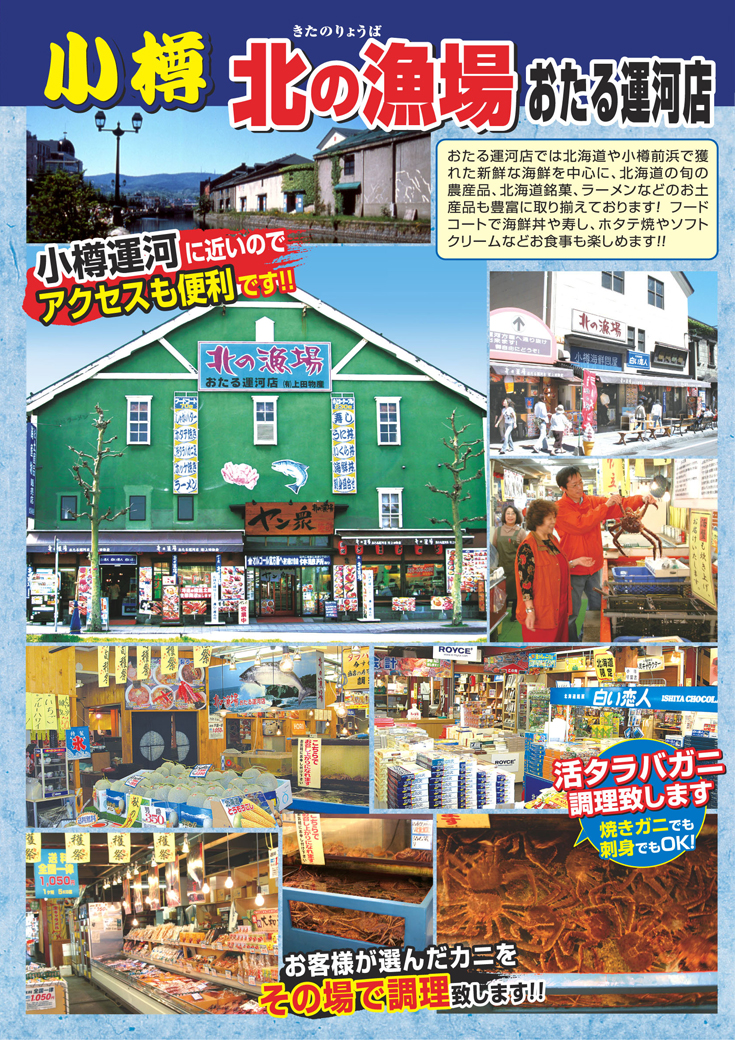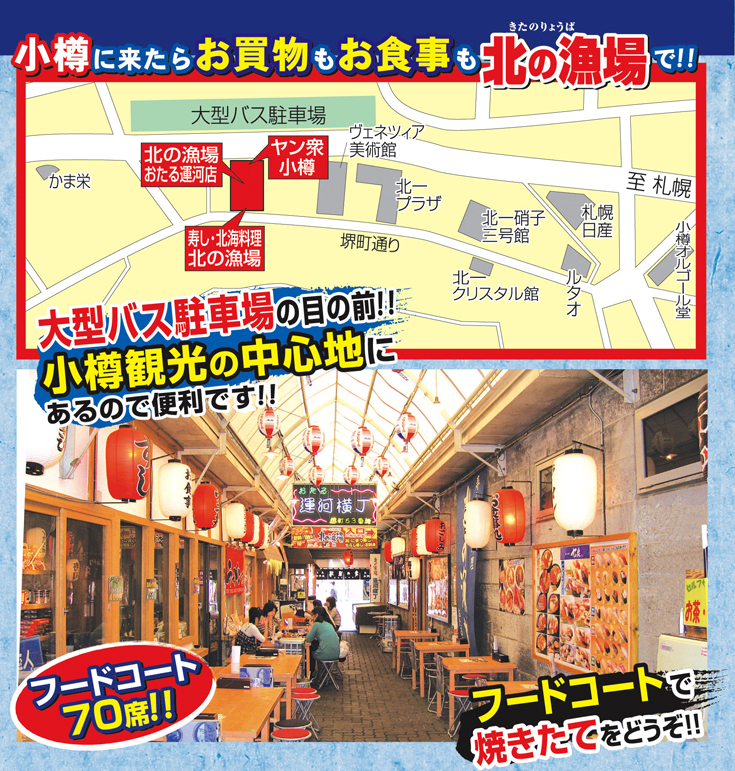 1.Of live king crab boil; one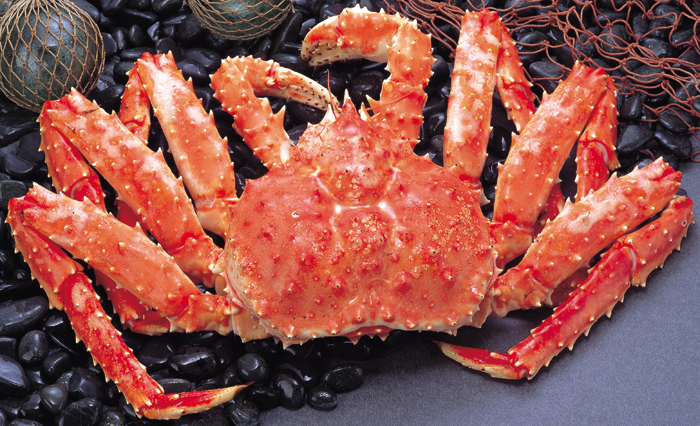 (1) When we boil king crab, at first we do miso omission.
(2) Omission person of crab innards puts three angles of partial (popular name loincloth) scissors (kitchen knife) with king crab as facing upward,
   We take out miso (yellow fibrillary thing) and easily inquire into the inside with water.
(3) Please put salt after pouring water as crab is covered in large pan, and letting you boil once. (for water 1L approximately 30 g of salt)
(4) We put crab in the pan if it boils.
(5) Please boil for ten minutes after boiling again.
(6) You take out of the pan if boiled and wash the surface in water quickly, and please have.
2.Of live hairy crab boil; one
(1) Please put salt after letting crab is covered in pan, and we enter, and water boil. (for water 1L approximately 50 g of salt)
(2) Please put in the pan with stomach of hairy crab as the top if you boil.
(3) Please boil for 20 minutes after boiling again.
(4) You take out of the pan if boiled and wash the surface in water quickly, and please have.

Broiled king crab
(1) <preliminary arrangements>
   Leg of crab separates with scissors or kitchen knife from part of joint.
(when we make a cut in part of husk with scissors or kitchen knife beforehand
Easy to eat.)
(2) We pick up crab foot which made cut end the top on net or grilled fish grill which we heated,
   Please bake to rank who becomes slightly red brown in husk by medium fire for approximately five minutes.
※When crab stew blows up from the body of crab, the body cooks.
※Moisture becomes hard to fall out when we wrap in aluminum foil.
Match vinegar with soy sauce, and add squeeze of lemon or ginger for preference, and be accompanied; as whom
Please have.
It is very delicious to have grilled itasonomamaoo.
To have trunk and nail deliciously
(3) Please put the body which separated leg after we put water, salt (for water 1L approximately 30 g of salt) in the pan and boil.
   ※When we put in the pan as miso is contained inside, please make stomach the top.
(4) After putting nail pickled shallot (part of the second joint) of crab, and, 20 minutes later, boiling more after boiling again
   We boil for five minutes and are the completion.
(5) We take out of the pan if boiled and wash in water quickly and serve in plate.
   While touching the body of crab which puts scissors or kitchen knife in the part of loincloth from the inside, and opens, and was boiled in warm miso
  We can taste another taste when we eat.
 ※Miso having just finished boiling does not harden.


Sashimi
We separate only foot with scissors from the body.
We let hot water boil in pan and become easy to exclude from shell when we put foot for approximately ten seconds (to take thin skin of the inside).
We put iced water in the ball, and fiber of crab left one by one when we acquired the position for 6-8 minutes and stood, and flower came to bloom.
This is signature ready to be eaten.
※Please in soy ginger or wasabi soy sauce.
We like crab
Have the body which we took out than husk with the point of shabu-shabu. We take sauce for preference.
Gun stew
Like to sashimi, and cut part which dish is hard to do with broiled king crabs into chunks beforehand; and with thin miso sause tofu,
We put green onion, burdock, shiitake, and please.